UNIQUE GIN WEDDING FAVOURS
For your very special day and your very special guests!
Premium wedding gin miniatures with your special date and happy couple's names! Tasteful and 'spirited' wedding favours from the Scottish Highlands. These wedding favour bottles are the perfect gift for your very special guests – unique, hand-made and personalised.
Depending on the quantity we can prepare the bottles usually within 7-14 days, delivery times vary depending on your location.
Wedding favours package includes:
50ml bottles filled with hand crafted Highland gin (40% ABV)
4 flavour options: Original Dry, Citrus, Spiced or Floral
Wax seal to give a premium finish
Wax colour options: silver, copper, black, green or red
Customisable labels with space for the happy couple's names and your special date
Label colour options: Grey, pink or blue
Price: £4.99 per bottle
Minimum order: 30 bottles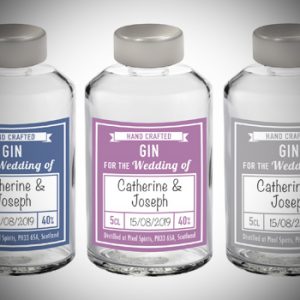 Our gins are hand crafted, hand bottled and made with the finest ingredients, even the fruit is peeled by hand and dehydrated in house where possible – Special spirits for your Special Day!
Send us a message with your custom requirements and we will get in touch with you shortly!
Wedding favour request form
Never miss an offer again!